Wilma Update 6 - Goodbye, Wilma!

Here in Manatee County, we got off light once again. The rain started about 6:30 last night and continue sporadically until early morning hours when it was pretty constant. According to My Other Half, he's seen more rain in a summer storm. That's what we said about the storms last summer. I apologize to those of you who experienced far more weather than we did, but that's all we got.
According to news, wind gusts got up to about 45 mph. Right now, the sun is shining. I stuck my nose out the door at about 9:30 am and was amazed at how cool it was. Bay News 9 was reporting 61 degrees and temps will be about 10 degrees below normal for the next few days. The temps have climbed to 69 degrees right now. For the record, I love it! Sunny and cool - that's my Florida.
Wilma made landfall about 6:30 am and the eye has moved off shore. In another couple of hours Wilma will be but a memory. Another good thing about the cool weather, it makes it less likely that another storm will form. Not impossible, but less likely. Storms must have warm water and warm air to intensify.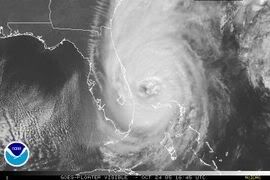 Our cable internet connection was interrupted and the box had to be reset. The power was off long enough be little more than a nuisance to have to reset clocks.
I took Wyatt out a couple of times for a few minutes last night between rain bands. Wyatt is NOT a water dog and DID NOT like getting his feet wet (he also DOES NOT like baths). I don't expect more in our neighborhood than a few limbs down and a lot of tree debris. The usual for the storms we get.
Bay News 9 is reporting that damage is already being assessed at between $2-$6 billion dollars. In this area, downed power lines and tree limbs and street flooding seem to be the worst of it. The Highway Patrol closed the Sunshine Skyway Bridge early

this morning to high profile vehicles, and then later to all vehicle traffic. It's now open, but caution is urged. The Skyway connects Manatee to Pinellas county and spans the mouth of Tampa Bay. It's 150 feet high, so wind gusts can be a problem to high profile vehicles. When it gets too windy, the bridge is closed altogether.
I wish I could say that everyone fared as well as we did here, but I know the story is different in South Florida, where Wilma made landfall and continued across the state.
Some stats reported by Bay News 9:
The Dry Tortugas reported the highest wind gusts 134 mph
Naples reported wind gusts of 121 mph
Lakeland-Mulberry had up to 9" of rain
River flooding expected in the Manatee and Little Manatee Rivers