Saturday Puppy Pic
One of my favorite reads,
Grouchy Old Cripple in Atlanta
, does a Saturday Boobage post. I think you can guess the content of the pictures he posts. (I wish I had the money to buy some of those myself!) And another favorite, Florida Cracker, does a Wednesday Dwayne Allman post. They gave me the idea to do a Saturday Puppy Post featuring my favorite canine, Wyatt.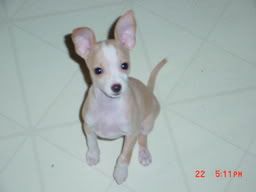 Look forward to pictures of Wyatt and the other kids, Dollie and Oliver, and maybe even some pictures of other dogs and cats I come across. And then there's our cruise photos!
What do you think? Is this size good? Would bigger be too much? If I make it much bigger, it will be lifesize and nearly fill the screen.

Ohhhh...you're gonna be so sorry I figured out how to post pictures!