New Kid on The Block
We have another dog! Buck is Wyatt's littermate and was living with the co-worker who gave me Wyatt.
A few months ago, he asked if I wanted Buck. After a half-second's thought, I said I'd talk to My Other Half, knowing that I wanted Buck. Well, MOH said of course, we'd take Buck. So, my co-worker said he'd talk to his wife (apparently he was the one who wanted to give me Buck and he had to clear it with his Better Half). I didn't hear again, and didn't feel that it was something I should ask about too often. When I did, well, his BH wasn't sure. So we waited.
About two weeks ago, I asked if it would be possible to get another puppy. His BH's mother or grandmother or someone in her family raises Chihuahuas - that's where Wyatt and Buck came from. Anyway, he said, sure. Then asked if we still wanted Buck. I said absolutely! So, after one false start, Buck came home last Tuesday.
He is a handsome young man. Larger than his brother Wyatt, but is solid not a bit of fat on him. Wyatt is a more delicate Deer-type (the poster boy I think), while Buck can't be described as delicate in any way.

This is Buck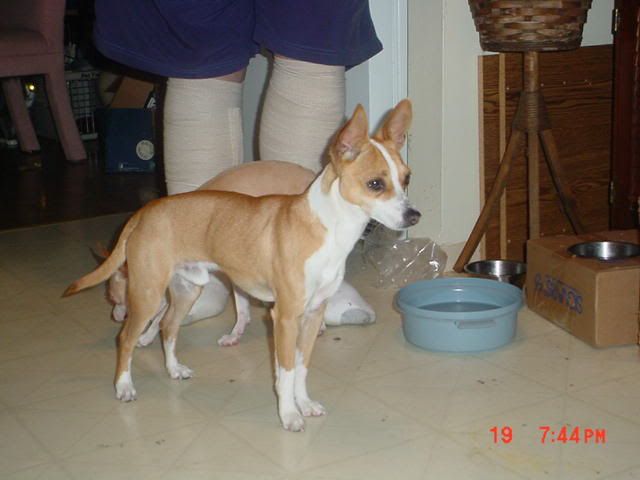 and this is Buck and Wyatt - aka the Thundering Herd of Two. I'm sure you see what I mean.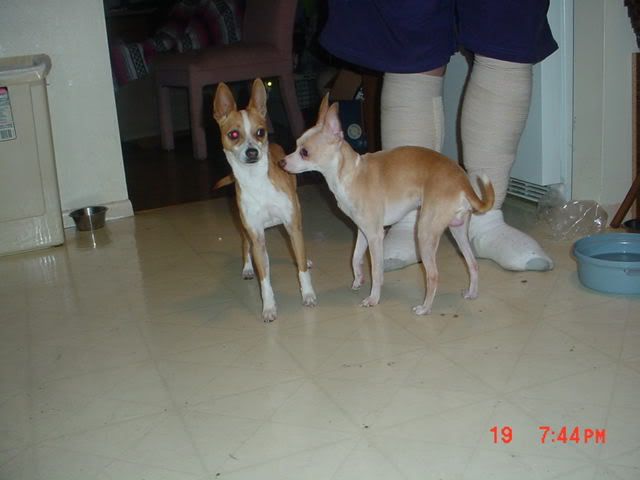 Buck is Daddy's boy and Wyatt is Mommy's. Now, if I could just convince Buck!